GROUP TWO AUCTIONS Friday, November 25th and run until Friday December 2nd @ 10PM for ten plates: PSU 010 thru PSU 019
Penn State License Plates are coming to Georgia!

GROUP TWO AUCTIONS (PSU 010 THRU PSU 019) GOING ON NOW THRU this Friday, DECEMBER 2ND
For a downloadable PDF of this information, click here:
http://www.psuatlanta.com/images.html?file_id=Lun115Fyv94%3D
All proceeds go to covering the Georgia DMV specialty plate fee of $25,000. Proceeds will be accumulated through license plate fees for priority numbers and donations.
The best option is getting a license plate with the Penn State symbol and PSU prefix. These are the hot plates and should go fast. If you miss the winning bid, go in the next group, or bid on two plates in a group. An estimated 100 premier plates will be available with values from PSU 001 to PSU 100.
If you miss out on a premier plate (PSU xyz) you can still get a pre-processed form through the PSU Alumni Association of Atlanta for a $35 fee. Availability will occur at a later date. These plates will not have the PSU prefix but they will still have the Penn State logo and text Pennsylvania State University subtext.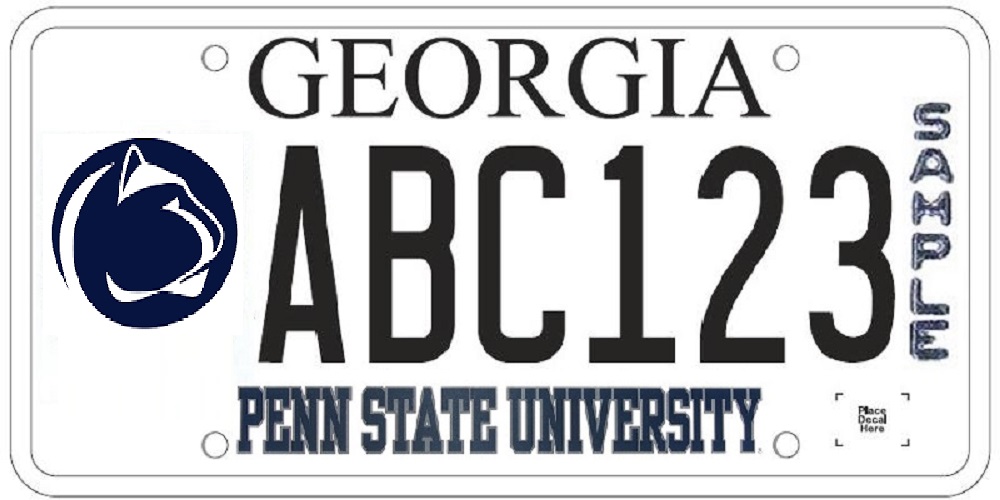 Plates being auctioned will be available in small groups (e.g., PSU 001, 002,

…

, 009) and gradually increase in count as we progress (PSU 068, PSU 070, etc).

The minimum bid amount will drop as higher numbers are auctioned.
Winning bids include the license plate application fee and the

"

rights

"

to your number.
Membership to the

Penn State

Atlanta Alumni Association is mandatory ($25 individual, $40 family).


If you are not already a member, the additional charge will be required.
Auction items will go to the highest bidder.

So bid often, bid high ;-)
Minimum bids are in place for each group of numbers.
Payments are captured at the completion of the bidding time.
All payments are held by PSU Atlanta until proceeds meet the necessary $25, 000 fee.
Unfortunately, we can not guarantee Georgia DMV roadblocks do not occur, as such, if a winning bid on a number meets one of these roadblocks, your money will be refunded at that time
The first round of auctions will last two weeks (to allow for setup, spreading the word, etc).

Subsequent auction rounds will be set for shorter periods of time, so communications will be key to success: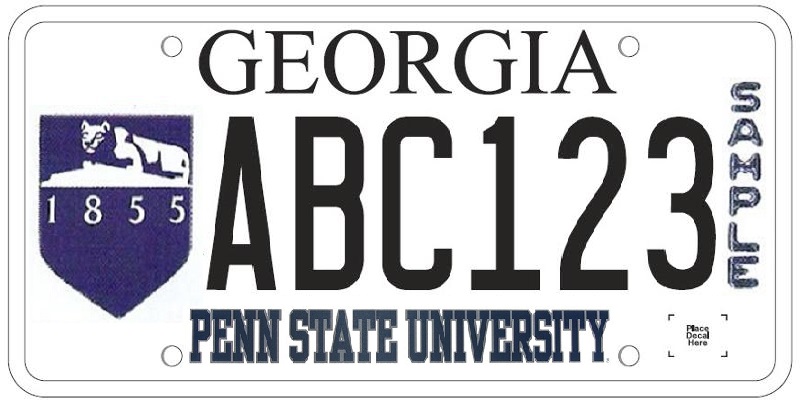 · https://www.32auctions.com/PSU_License_Plates
o Nine Plates - PSU 001 – PSU 009: two weeks to get involved
§ ALL PLATES SOLD!
WE RAISED $4500 SO FAR
WE ARE 18% TO OUR $25,000 GOAL!
· https://www.32auctions.com/PSU_Plates_010-019
o Ten Plates – PSU 010 – PSU 019
§ beginning Friday, November 25 @ 8:00 PM
§ ending Friday, December 2 @ 10:00 PM
· Each round of auctions will require a specific link and will be provided in due course.