Featuring Chris Thomas, '03, '08g Principal Team Leader, Chick-fil-A
Join us for an exciting virtual coffee and conversation on November 18th with Atlanta's own Chris Thomas, Principal Team Leader at Chick-fil-A Inc. Chris Thomas will be our guest on Nov. 18 in our Coffee Hour series. Chris will join Alumni Association CEO Paul Clifford '20g to discuss his role with Chick-fil-A, serving as a mentor to Atlanta-area youth through different organizations, some of his favorite Penn State memories, and more.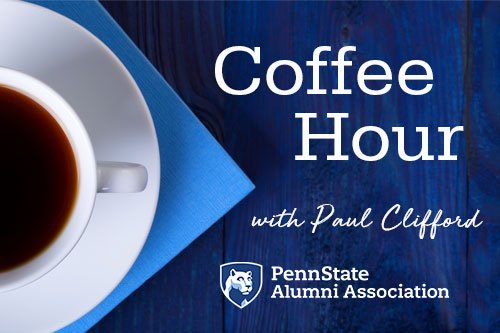 Chris Thomas serves as Principal Team Leader at the Chick-fil-A Inc. In this role, Chris is responsible for leading a team of technology specialists, who help to resolve widespread technology problems that may occur in restaurants. Most recently, Chris was a Senior Lead Advisor responsible for helping to select the best individuals to become operators of Chick-fil-A restaurants. Prior to Chick-fil-A, Chris spent 8 years with General Electric in a number of strategic marketing, sales, and talent management roles.
Chris dedicates his time by serving on the Boards of the Aerotropolis CID and the African American Alumni Organization in Atlanta, as well as mentoring youth. Chris is a 2018 fellow of the New Leaders Council Institute in Atlanta. In 2019, Chris was named one of the 40 Under Forty by the Atlanta Business Chronicle. Chris and his family reside in the Atlanta Metro area.

Coffee Hour with Paul Clifford
Coffee Hour with Paul Clifford is a weekly zoom call featuring coffee and conversations featuring noteable Penn State Alumni and Paul Clifford, CEO of the Penn State Alumni Association.
You can Zoom in Wednesdays at 9:00am.